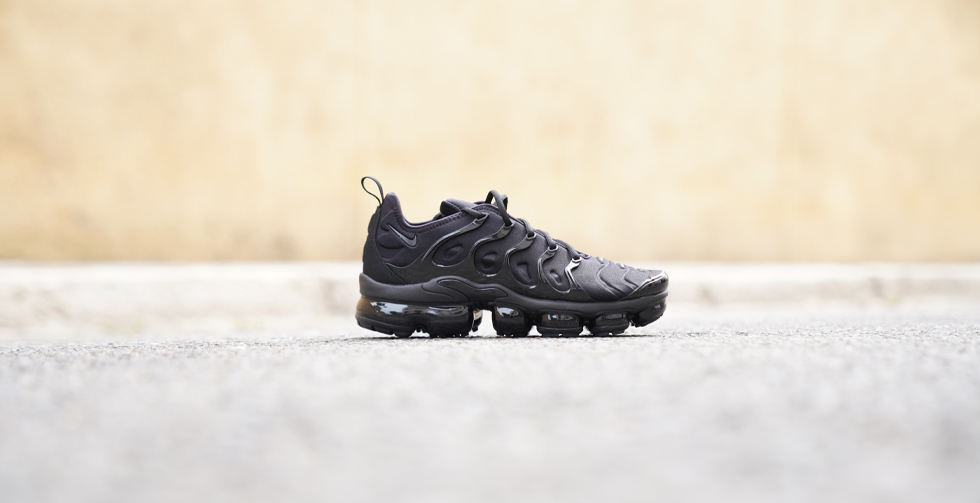 Air VaporMax Plus
The Nike VaporMax Plus blends old-school, iconic aesthetics with up-to-date, modern technology; a perfect synergy of old and new.
The shoe takes design cues from the Nike Air Max Plus; a shoe that was once aesthetically and technically groundbreaking in itself. Its relevance has been secured by the cult following it has gained in European capitals, known as "le requin" or the shark in Paris. The original design was inspired by palm trees represented by a TPU shell that encased the shoe, while a whale-fin inspired shank added to the tropical feel. But it was the vibrant colours that really made the "Tn" tuned air into a statement piece.
Skip forward, and now we can see that the Air VaporMax Plus takes this 90s aesthetic heritage and fuses it with one of Nike's most successful, comfortable, soft and supportive technologies: VaporMax. Far from being the reserve of technical proficiency, the tubular, bulbous design of its midsole also serves to compliment the unconventional style of the Plus. Thus, Nike have birthed a modern classic.
Design-wise, it stays true to the original, keeping the whale-inspired arch in the midsole and utilising a neoprene upper with debossed details that continue the retro shape. The VaporMax Plus has been given a stronger cage, the swoosh has been relocated, and the "Vm air" logo has been moved to the back of the shoe. This shoe stays true to Nike's impeccable habit of modernising, while also respecting their heritage.