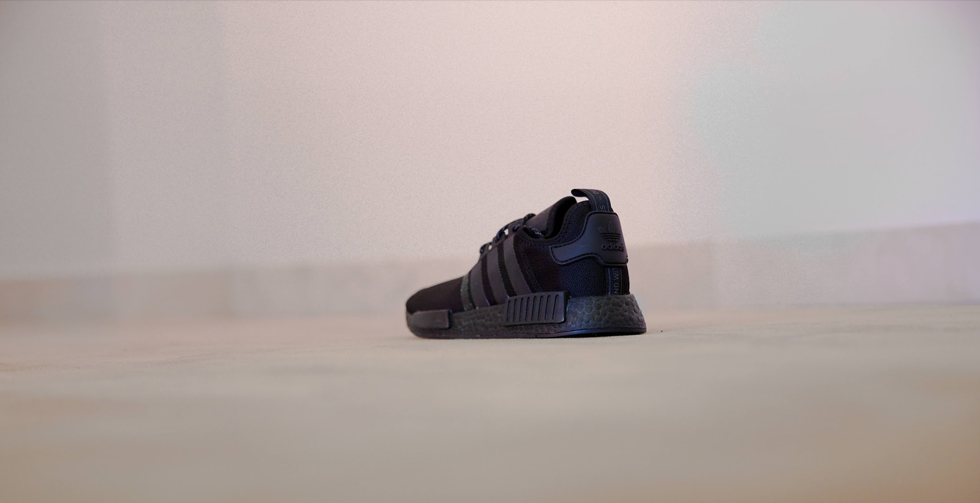 NMD
2015 was big for adidas. Yeezy launched, the Ultra Boost was revealed, there were a slew of exhilarating collabs including Pusha T, Pharell Williams and Raf Simons, and finally, in December, the adidas NMD arrived at a special launch event in New York City.
The NMD, whose name is short for nomad, was engineered for the explorers, the creators and the cultural trend setters of the modern metropolis; for those who are always on their feet. Today's city dweller requires a shoe that facilitates long explorations of the urban environment, fosters creative energies, and keeps the wearer thriving throughout the day.
The adidas NMD supports this high-octane existence by fusing together some of its most innovative technologies: Boost and Primeknit. The latter is a single-knitted upper which has the feel of a sock. It is made from thermoplastic fuse yarns that are flexible, stable, breathable and supportive. The closed lacing and sleek welded three-stripes are aerodynamic and secure the foot. Aesthetically, the upper looks both modern and athletic.
Stowed away in the bottom of the NMD lies adidas' Boost technology. Adidas collaborated with German chemists, BASF, to produce a midsole made from thousands of energy-returning eTPU bubbles. They act like mini air pockets that ensure unprecedented comfort, flexibility, durability and waterproofing.
This technology is grounded through a grippy rubber outsole that comes with a lattice pattern of indentations running across it. These aren't just for decoration. According to lead designer Nic Galway, they help the wearer to move with fewer restrictions, ensuring the highest energy returns possible.
In a similar vein, the colourful bars appearing like bricks on the shoe's flanks offer added stability while also referencing 80s adidas silhouettes such as the 1984 Micro Pacer, the Boston Super and, most notably, the Rising Star. The heel counter, sometimes known as a moustache due to its distinctive shape, provides structural support as well as carrying the iconic adidas branding. These motifs cement the idea of a shoe whose visual features are also integral to its function, while the old-school aesthetic gives a sense that it is rooted in adidas' rich and familiar design history. It was important for Galway that people could instantly identify the shoe, even when seeing it from afar, so he made the NMD feel like a shoe we are already accustomed to while also giving it a unique style which had not been seen before.
The adidas NMD is the ultimate city sneaker. Boost and Primeknit technologies combine to create a featherweight, ergonomic, pavement-beating shoe that carries its own eighties-inspired style. The NMD enables creators and thinkers to move through the city with ease while also managing to balance comfort with supreme style, and though it may take inspiration from the past, it is undoubtedly forward looking as well. It is this synergy that has made the NMD a glimmering success.